Royal Academy of the Arts
Address: Burlington House, Piccadilly, London.
Opening hours: The Royal Academy is open from Saturdays to Thursdays from 10:00 am to 6:00 pm and on Fridays from 10:00 am to 10:00 pm.
Contact: Phone +44 20 7300 8000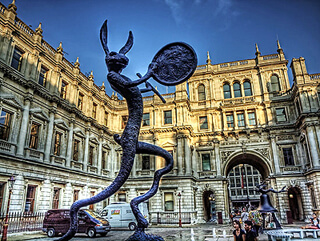 The Royal Academy of the arts in London is housed in Piccadilly's Burlington House. It is a privately funded art institution that has been established to promote appreciation of the visual arts. The museum aims to achieve this goal through holding exhibitions, providing education and encouraging debate.
The museum does have the name "royal" attached to it – and no wonder. It was founded through King George III's personal act on December 10, 1768. At that time –even many centuries ago – the mission was basically the same: to promote the arts in Britain by making use of exhibits and education. The Academy was also set to provide the artist a professional status. There will be trainings in making people expert judges in what is excellent art. There was a need to found a national art school wherein interest and appreciation of the arts are encouraged, boosted by fixed rules on which works should be considered in good taste.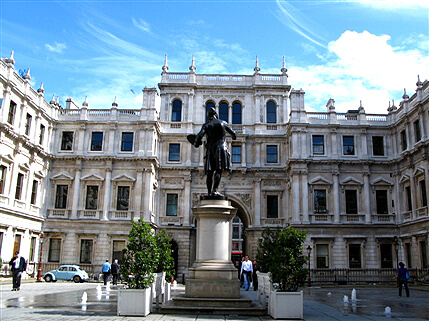 In the 18th century, accepted British works were those that made use of continental or traditional techniques. At that time, contemporary artists in the country did not have much of a chance to promote their pieces. There was, however, already a movement towards providing contemporary British artists places to showcase their works, as evidenced by the foundation of some museums, such as the Foundling Hospital. Finally, the Royal Academy was given the chance to sprout of these artistic desires and to dominate during the 18th and 19th centuries. Sir William Chambers was able to elicit financial support as well as royal patronage by being connected to King George III. Sir Joshua Reynolds was the Academy's first President.
Originally, the Royal Academy was all cramped into the Pall Mall. It changed venues a few more times before finally settling into Burlington House. The first exhibition, directed to artists, was held in April 25, 1769.
Today, the Academy still offers a vast collection of visual artworks, from past to present and from acknowledged masterpieces to the avant-garde. The Royal Academy is open from Saturdays to Thursdays from 10:00 am to 6:00 pm and on Fridays from 10:00 am to 10:00 pm. Adults have to pay an admission fee of £10 while concessions have to pay £8. The carers of the disabled and children below 7 years old can be admitted for free. Children ages 8 to 11 pay £3 and those aged 12 to 18 pay £4.